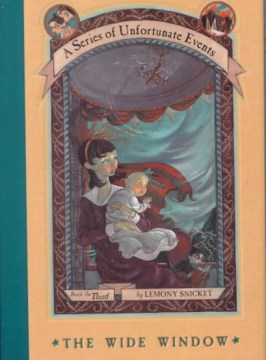 The Wide Window
Book - 2000

Baker & Taylor
Catastrophes and misfortune continue to plague the Baudelaire orphans after they're sent to live with fearful Aunt Josephine who offers little protection against Count Olaf's treachery.
HARPERCOLL
Are things getting better for the Baudelaires? Could they possibly get worse?
Violet, Klaus, and Sunny Baudelaire are fortunate to have found a new guardian, Aunt Josephine. Even though she is unusually nervous, she seems nice enough.
And the children are also fortunate to be living so close to a large body of water. It's true that the lake is teeming with ferocious leeches -- but if the children wait one hour after eating, they can go swimming.
It is fortunate, too, that the siblings have such a splendid view of the big dark lake. Never mind the news that Hurricane Herman is racing toward them; Aunt Josephine's house is built sturdily on a cliff.
But above all, the children are lucky that they have a home now where they can rest up. For these are the unlucky Baudelaire orphans, and they will certainly need all their strength when everything that could possibly go wrong, suddenly does.
Baker
& Taylor
Despite the strange vibes they receive after moving into Aunt Josephine's home, the Baudelaire orphans know they can handle any difficulties that may come their way so long as they stick together.
Searching for more content…
Publisher:
HarperCollinsPublishers, 2000
ISBN:
9780060283148
0060283149

Characteristics:
214 ; cm
---
Opinion
From the critics
---
Community Activity
Quotes
Add a Quote
TSCPL_ChrisB
Jun 05, 2016
If you are allergic to a thing, it is best not to put that thing in your mouth, particularly if the thing is cats.
Summary
Add a Summary
Violet, Klaus and Sunny start living with their new guardian, Aunt Josephine who is afraid of absolutely everything and is obsessed with grammar. Their living conditions are not ideal, everything they eat is cold because Josephine is afraid of turning on the stove. She is especially afraid with the lake because her husband, Ike was killed by leeches.
Count Olaf appears disguised as a owner of a boat rental shop, Captain Sham, and disguises his tattoo with a fake wooden leg.
Soon after Aunt Josephine appears to jump out of a window and leaves a final note that leaves the children in custody of Captain Sham. However, the note is written with a number of grammatical mistakes, which Klaus decodes and they learn that she went hiding in a cave out on the lake. The children steal a boat from the boat renting place and find Aunt Josephine in the cave.
When they find her, they convince her to go back to shore and help put Count Olaf to justice. She reluctantly agrees and as they are paddling back to shore the leeches come and attack them because Aunt Josephine had recently eaten, which attracts the vicious leeches.
The boat is about to sink when they are saved by Count Olaf's boat. Eventually he pushes Aunt Josephine off the boat into the water where the leeches are. They get to the shore and the children try to convince Mr.Poe that Captain Sham is Count Olaf. Mr.Poe doesn't believe them until Sunny decides to bite the leg of Count Olaf, revealing his real leg and the tattoo. Count Olaf and his assistant then take off. Aunt Josephine is presumed dead.
Notices
Add Notices
There are no notices for this title yet.